Eleonas Estate. Crete. Greece.
Live the Dream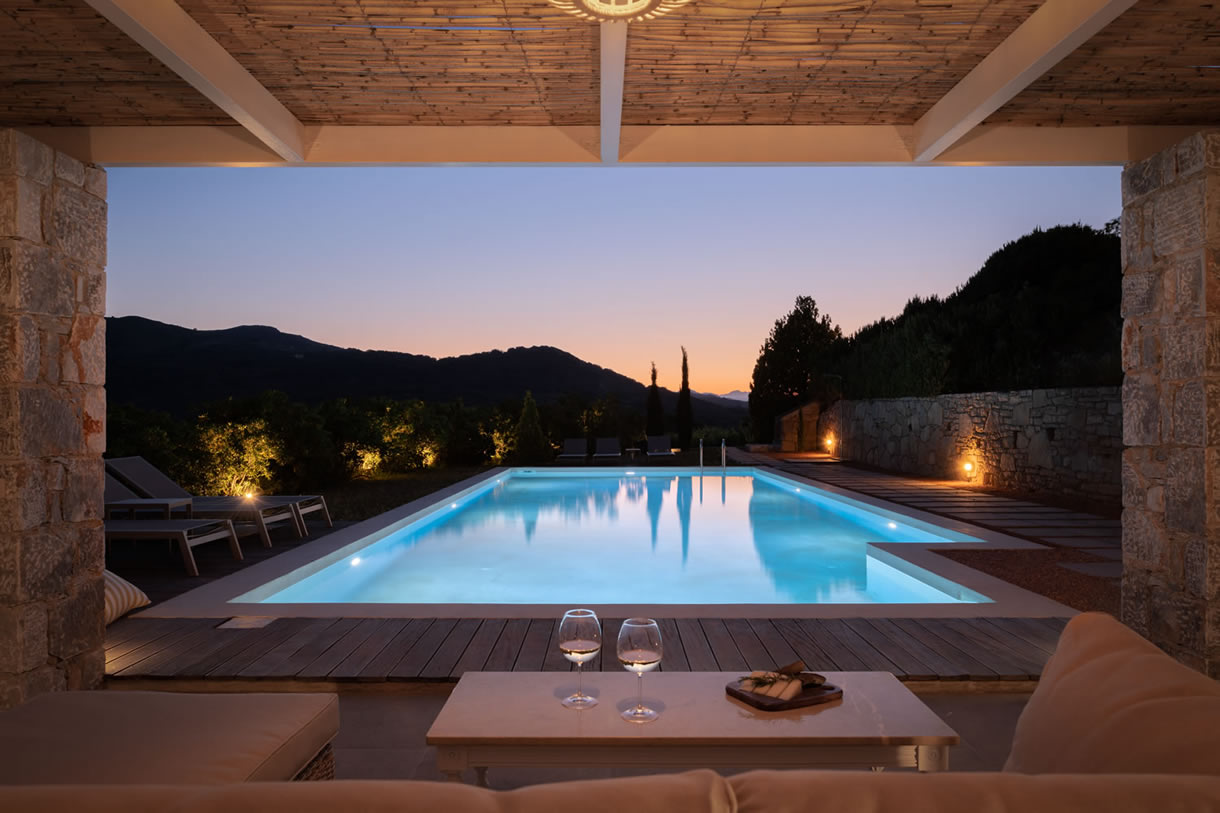 Experience a sumptuous escape in the breathtaking beauty of Crete.
The Eleonas Estate in Crete is a place of unparalleled beauty and relaxation. Located in the South of beautiful Crete, the stunning natural beauty of the surrounding landscape will mesmerize you. Picture yourself in a Mediterranean villa located in a private olive tree estate.
With two floors of spacious and comfortable furnishings, you will find a place to relax after a long day of exploring the island. The Villa's generous outdoor spaces offer plenty of seating and dining options and an idyllically large pool perfect for soaking up some sun while enjoying a refreshing dip in the water or a glass of wine with your holiday companions. Eleonas Estate's villa holds something magical for everyone.
Enjoy majestic living at its finest in this stunning Villa encircled by Crete's spectacular scenery. If you are seeking for a peaceful retreat, you are exactly where you are supposed to be. By booking Eleonas Estate's villa, you choose the perfect blend of relaxation and adventure.
Relax in the comfort of your private villa, surrounded by aetherial gardens and tranquil pools.
Eleonas Estate's villa is the perfect spot to call home while vacationing in Crete. Enjoy sumptuous living in a villa that combines tradition and architecture, where you can take advantage of all the amenities, such as a fully equipped kitchen and three spacious bedrooms. Spend your days lounging on the terrace or exploring the local attractions. Eleonas Villa has all the comforts you need for a perfect holiday in Crete. Enjoy the Mediterranean atmosphere and relax in the Villa's interior throughout the day.
Escape to paradise in a serene environment
This stunning villa offers a homely feeling while you enjoy the magnificence and culture of this beautiful Mediterranean island. Make this dream holiday a reality with Eleonas Estate's villa!
Book now to guarantee an unforgettable getaway retreat at one of the finest villas on Crete – Eleonas Estate's villa!
Rejuvenate your mind, body and spirit in this stunning destination. Get ready for an unforgettable experience.
Guests Impressions
At Eleonas Estate's villa, we offer a unique experience of indulgence surrounded by breathtaking views of the Cretan countryside. Here is what our guests have to say about their experience.
One of the most beautiful and soulful places I have ever been to. Dreamy nature, refreshing pool, beautiful green garden with a big olive grove. The house is elegantly and slightly rustically decorated. The sunset hour is fantastic with a nice peach-pink color covering the panoramic view from the big veranda. And the smell of rosemary mixed with oregano still stays with me. Loved it, lived it!
I almost don't want to say how good this villa is incase it gets too busy for us to return. Everything about it was perfect, from the toiletries provided to the massive pool (the pool is even bigger than the pictures suggest, it's huge – no fish eye lens like you get with other villa photos). The location is magical, total peace and seclusion in olive groves and yet only a 15 minute walk up to Kissos with a brilliant taverna and a 10min drive into Spili which has everything and is a pretty little town.
Eleonas estate…words are often poor to describe what the eyes see and the soul feels when you see this beauty! – The beauty of nature in absolute harmony with human creation!"
… The villa is located a bit secluded in the middle of an olive grove, which gives you peace at any time of the day. The view of the mountains is breathtaking and makes you forget everything around you. With a small walk over the huge property you can discover a lot!
Eleona's estate is perfect for a vacation with several people. The many seating options, both indoors and outdoors, will allow you to spend unforgettable evenings with friends and family while also offering retreats for everyone. Particularly beautiful is the nighttime outdoor lighting, which creates a cozy ambience. The pool is also huge and invites you to relax ..
Loved the spacious pool, tranquil Olive grove, beautiful views & the silent calm. Very fast wi-fi (even by the pool), powerful AC, great commodities overall. Antonis is a very welcoming and caring host. Definitely a place to remember & return to.